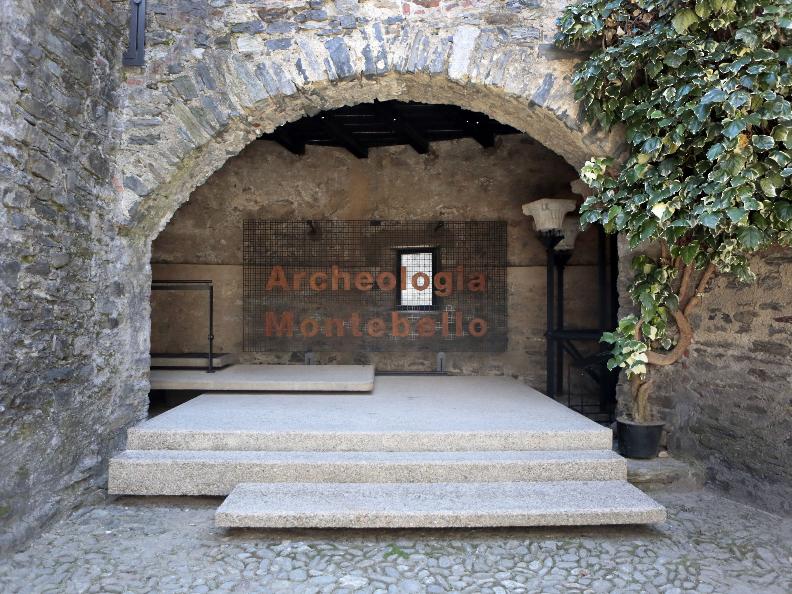 Archaeologia Montebello
The tower of Montebello castle houses an archaeological exhibition displaying a selection of finds from the Ticino area, with a particular focus on the Bellinzona region and the upper valleys. The finds, including some rare and valuable pieces such as the duck-billed pitcher from Giubiasco-Palasio on display at the entrance, invite the visitor to discover this region through elements linked to the natural resources and human presence that have characterised it since ancient times.
The visit to the keep takes a vertical route following the thread of time in chronological order, from the bottom (the oldest period, the Mesolithic) to the top (the most recent period, the Roman era). The sequence – divided into four exhibition floors, interspersed with three evocative floors – reflects the research methods used on the ground to bring artefacts to light based on stratigraphic reading: the deepest layers contain the oldest elements, while those closest to the surface contain the most recent ones. Another route instead descends to the lower floors, where you can delve into a few topics: the introduction of the first form of writing to our lands, which occurred during the Iron Age, and its spread in Roman times; clothing, that is, how our ancestors dressed and adorned themselves; and the funerary rites used in antiquity.
The history of the castle is presented in the Palazzetto through old documents, drawings, vintage photographs, and architectural projects, from its construction at the end of the thirteenth century, through the extensive restoration and reconstruction works between 1902-1910, up to the last major architectural intervention dating back to the 1970s.
A guide available in four languages and downloadable on smartphones accompanies the visitor along the entire exhibition itinerary.
Opening hours:
March/April-November: 10:00 – 18:00